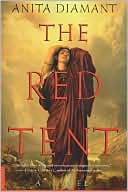 I picked this book up from the Library 2 weeks ago because an online book club that I belong to selected it as the next book. I started to read it many years ago when it was fairly new, but never finished it for some reason that I can't remember.
Anita Diamant takes Dinah, daughter of Jacob in the Old Testament of the Bible, and her one line mention there and creates a story around her. The story is told through Dinah, and is very female-centric, focusing on her Mother Leah, and her Aunts Rachel, Zilpah, and Bilhah. Stories of their family and of their people are told in The Red Tent, the place where the women of the family go every full moon when they are menstruating or when someone is in labor.
Diamant takes stories from the Bible and weaves them into the narrative, giving a new prespective on them since they are now being told from a feminine point of view. Of course it is a work of fiction, we don't know what really happened to Dinah after her very small mention in the Bible, but Diamant tells her story in a compassionate, page-turning sort of way that eventually leads Dinah to become a famed and sought after midwife in Egypt.
I would recommend this book if you like historical fiction, feminist literature and biblical stories. I liked it a lot.
~Miranda