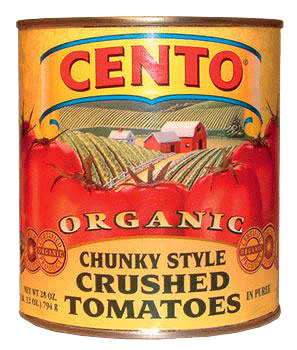 Since I am doing Menu Plan Monday now, I thought that every so often I would add one of the recipes I make from the "recipe box in my head." So I figured I would start with a basic: tomato sauce.

Before I tell you how I make my sauce let me just say that I HATE jar sauce. It is too sweet, is full of preservatives and is nutritionally not nearly as good for you as home made sauce. I will eat it if I am at someone's house and they use it but I am usually not thrilled. When I make my sauce, I make a lot then I freeze some for later use. I never measure but I will try to estimate for blogging purposes.

WHAT YOU NEED:

a large pot, preferably with a cover

extra virgin olive oil

1 head of garlic

1 large yellow onion or 2 small yellow onions

Fresh basil (you can use dried if you want)

Red wine (optional)

1 28oz can San Marzano crushed tomatoes

Salt and Pepper

Coat the bottom of the pot with the olive oil and put over low heat. Dice the onion and add to the pot. Dice the garlic and add to the pot. Raise the heat to medium-high. Cook until the onion is soft and semi-clear but do not let the garlic burn. Add the San Marzano tomatoes. Add around 1 cup of red wine.

At this point, bring the sauce to a boil and then drop the heat back to low. Cook uncovered until the sauce is a bit thicker. Season with salt, pepper and chopped up fresh basil to taste. You can also use dried Italian seasonings if you like. Once the sauce is seasoned, simmer covered for as long as you want. The longer it cooks the better it will taste.

~Miranda