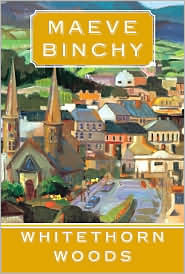 When I was young, I read all Maeve Binchy's books. Circle of Friends, Tara Road, Light A Penny Candle, etc. They were all fabulous. Maeve Binchy is from Ireland and writes about the Irish countryside, Irish ways and the relationships of Irish people. Then she sort of fell off my radar. So when I searched Barnes and Noble for books to read and found out she is churning out books again, I decided to try one out.
Whitehorn Woods is a novel but it is comprised of several short stories that sort of intertwine, in a Love Actually sort of way. I liked it. I didn't love it.
Until I read a book that I really like, these reviews are pretty much going to suck.